Looking for some inspiration?
Inspiration is within you, but you have to find it and tap into it. That's not so easy when we're surrounded by our comforts. We all have 'em: comfort foods, comfort movies, etc. Comfort foods and movies aren't unhealthy when enjoyed in moderation, but if we stay in the comfort zone of our life, we stagnate and end up just going through the motions of a day and what's expected of us to produce.
When I was 26 years old, I was living in Chicago, married with a two-year-old son. My husband was going to law school, I was working as a legal assistant in the city, everything was on schedule, bright future ahead. I was in my comfort zone, or so I thought. On the morning of February 2, 1993, I was crossing a street to the train station to get to work, but I never made it to the other side. I was hit by a car. The head injury was so severe that my dad, a physician, was certain I would remain in a vegetative state if I lived at all. What followed was a week in a coma followed by six weeks of hospitalization and two years of physical therapy. Wow, did that throw me out of my comfort zone. I had to retrain my brain and relearn a lot of things.
Of course, that accident was not an intentional change. Life throws changes at us that we don't expect. But if we are comfortable and experienced with making our own intentional life changes, we're better prepared for the unexpected. It's why schools and other institutions have fire drills: if we are organized and know our goal, our intention, we're better prepared to put out those fires that find their way into our lives.

Resources
John C. Maxwell is a brilliant, effective author and speaker, one of my favorites. One quote I'm reminded of on this topic of inspiration: "If we are growing we are always going to be outside our comfort zone." Mr. Maxwell's book, "Failing Forward," is both inspiring and motivating. Also available in audio. I personally found it very helpful. I hope you do, too.
Need a little more inspiration? Jean Dawson took her first yoga class at age 67. After that, she became a certified Yogi, and was still at it when she reached an incredible 100 years old in 2016. In 2017, Vito Perillo was elected as mayor of his town in New Jersey at the age of 93, making the political newcomer the oldest winner that Election Day. These are just two examples of people who didn't wait for change to come to them. They tapped into their own personal inspiration, chased the change, did the uncomfortable, and no doubt had to make a lot of changes in their mindsets, their routines, and their habits to make their dreams reality.
So how do I find my inspiration?
How do we initiate change? And what if we don't have a specific goal? You don't need to have a life-changing event or unhappiness in your life to want to feel refreshed, renewed and rejuvenated by incorporating new routines into our day.
We all know what happens with new year's resolutions – they never last. To make intentional changes in our lives, to move forward, we need to create new habits, not make resolutions. However, inspired by the beginning of the new year and the knowledge that I haven't made many changes in my own life recently, I've incorporated a few new habits into my daily routine. They are small but they have been very effective, reminding me that I'm in control – the only way to affect change is to make changes in myself.
It's not what you do in a day; it's about what you do daily! Today's challenge: add one of the following five easy routines to your daily routine, starting now. They are small changes, easy to incorporate into any daily routine and will inspire and motivate you to continue to move forward, to take risks, and pick up a few more good habits.
Begin your day with water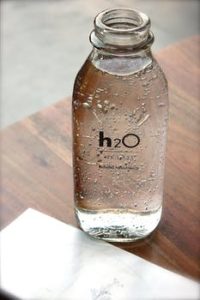 I love my coffee; my day doesn't start without it. But I've recently modified my morning routine to start with drinking some water prior to my beloved coffee. It's given me a much-needed boost of energy at the start of my day, you have to feel it to know the difference it can make. And I've reduced my coffee intake, which is an added bonus!
Walk at least 30 minutes a day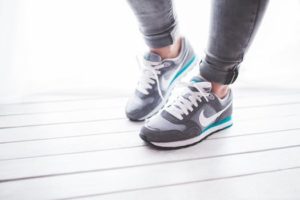 This drastically reduces your cholesterol and blood pressure. Doesn't even have to be done all at the same time, break it up into different increments if needed. Take the stairs, have a "walking meeting" at work, go for a walk with your family before or after dinner. Don't give the kids a choice – they're going!
Include at least one color at every meal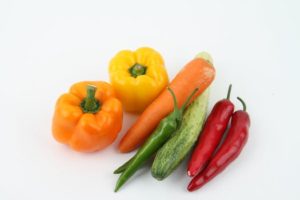 On your shopping day, follow a list, buy produce in bulk, wash and cut up when you get home and you're set for the week. You're much more likely to throw the colors in if you've spent the money on them and they're ready to go at all times.
Reduce your news intake
With all the information we have available instantly, at all times, it's very easy to get sucked into receiving that information continually. It's emotionally debilitating and draining. It really does suck the life out of you. Just like our food intake, what comes in goes out and you are what you ingest, physically and mentally. When you take in toxins, it poisons you. I cut my newspaper delivery to two days a week and block a maximum of 15 minutes of news intake per day. It's been so liberating, there are days I go with zero news intake.
Listen to inspirational audio at least 15 minutes per day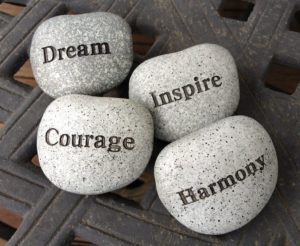 Have a commute to and from work each day? Instead of listening to the negative news for the day (I used to do that, completely wasted time I'll never get back), pick up an audio series from your local library. I recently listened to Michael J. Fox's "A Funny Thing Happened on the Way to the Future," picked up at my library. Incredible story and perspectives, heard from Michael himself. And there's TONS of free stuff on YouTube. Even better, listen to inspirational audio while doing your walking!
Define Yourself
How do you define yourself? Are you stuck in that definition or will you take the wheel? In your pursuit of success, personally and professionally, you need to search for and welcome the uncomfortable. Success is not limited to financial success. Success in life is so much more than that. However, financial security allows you to take control of your life and stop being barked at by a supervisor who cares nothing about you or your goals. Are you ready to take control of that? Are you ready to be the boss? If you are ready to take control of your life, contact me for the tips, training and content that has helped me launch my own digital marketing career that gives me the freedom to give back, the freedom to make my schedule, my choices, my rules.
I intentionally use the verbiage pursuit of success, not finding success, because it is a constant state of pursuit. I don't think there's ever an end to the journey in pursuit of happiness and success, at least there shouldn't be. Will Smith's character explains this brilliantly in the incredible movie, The Pursuit of Happyness. If you haven't seen it, definitely do, use it as a springboard to jump into the new chapter of your life you're about to write!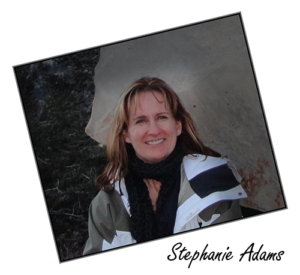 Please follow and like me: